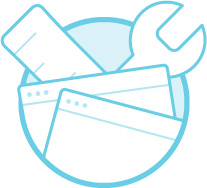 We were doing project by using world class standard practice for IT Project Development and Project Management.
System Development
Smart System Development.
We are happy to share our knowledge and experience to our customer. Our development team always practice world class SDLC and Agile Process based on the project requirement.
Project Management
Smart Project Management.
Our project management methodology activity practice is different for each project and depending on our customer environment. The basic methodology is firm follow the rest of world class methodology such as Project Initiation, planning, executing, control, monitoring and closing.
BI & BD Analytics
Business Intelligent and Big Data Analytics.
Base on our experience from digitizing document, archiving audio and video to merge unstructured data to structured data before the Big Data era. On top of that we are also developing portal and business system to various industry and government agencies, with our continuous R&D and advanced Hadoop Technology available we are able to consult and developing Big Data Analytics for medium and bigger size with effective cost.